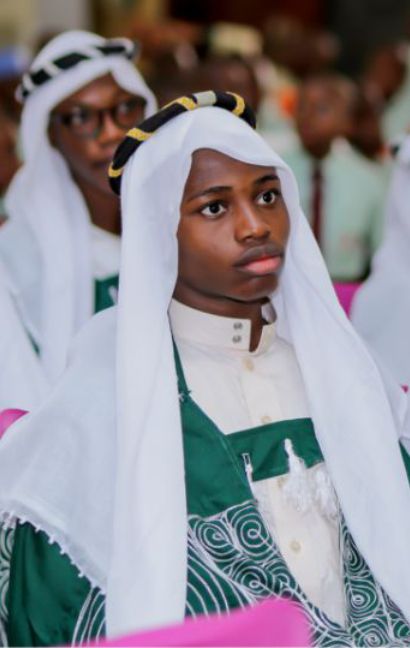 At-Tanzeel School History
At-Tanzeel, by its name and meaning is a crystal reflection of knowledge at the highest and most modern level. It is one of the names by which the holiest Scripture – Al-Quran is called. Therein, all spheres of knowledge which translate into education are contained.
At-Tanzeel Schools, is a full boarding Primary and Secondary School; it started with the Primary school in the 2010/2011 academic session at Ijede, Ikorodu with just 9 pupils who are children of some of the promoters. The student population grew to 11 before the end of the session. As at 2017/18 academic session, the population is 74.
The promoters decided to start the college in the 2014/2015 academic session to enable continuity of the Hifz (memorizaion of the Glorious Qur'an and Arabic language study under our highly competent and qualified Hufaz).
The College started with just 13 students in 2014/2015 Session with JSS 1 only. Within a year of the establishment of the college, we took the 2nd place in the 7th Lagos Internal Revenue Service Essay Competition with an award of a complete computer set for the school and N200,000 worth of scholarship for the student. We equally recorded 100% pass in the 2017 Lagos State Basic Education Certification Examination (BECE).  Today, Alhamdulillah, they are 94 students from JSS 1 to SSS 1.
The aim of the promoters is to have a standard Islamic School that will cater for the needs of Muslims who are mindful of their duties towards their Creator. The School is owned by a group of conscious Muslim brothers and sisters in various fields of endeavour and currently headed by a seasoned Administrator and passionate Total Child Developer, Mrs Azeezat Mojisola Abinuwaye.
The school moved to her permanent site at Igbogbo road Ikorodu, Lagos at the beginning of 2013/2014 academic session .The new site is located on an expanse of land within a serene environment conducive for learning. Presently, the student capacity of the school has increased tremendously to a total number of 168 students from the nine the school started with in 2010/2011 session.
Alongside the Primary and Secondary School, At-Tanzeel runs the Complete Qur'an Course hat is aimed at memorizing the Qur'an within Three years with classes in Mathematics, English, Science and Social Studies.
At-Tanzeel, has so far been able to do the seemingly impossible, i.e. combining a full-fledged Islamic school with secular education, where the two are run concurrently with injury to none. The school has, however, proven that nothing is absolutely impossible for Allah to make manifest.
Executive Summary
Secondary School was founded in 2014
Students with excellent academic programs
Stimulating curriculum and a supportive environment
A private yet affordable elementary school
Students experience success every day
Supportive environment to ensure